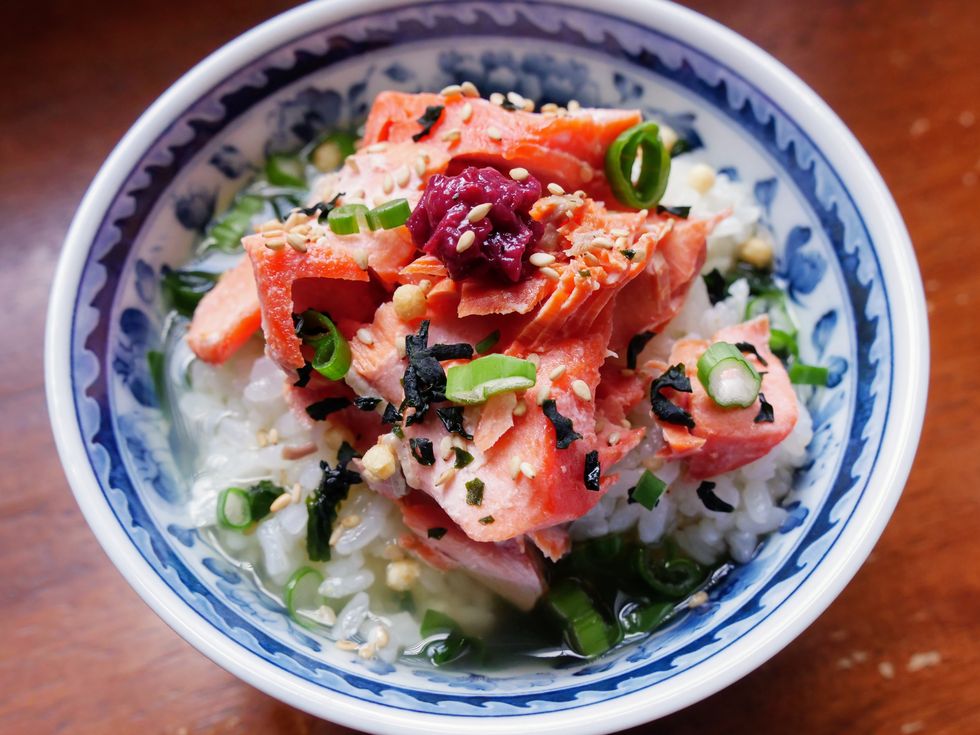 I had my first bowl of ochazuke on a flight to Japan and it was love at first bite. Something as simple and adaptable as rice immersed in fragrant tea and flavored with a few savory toppings made me feel grounded even while I was miles high in the air.
For this dish, I recommend that you follow step 1 in Makinze's recipe for sushi rice for the ultimate Japanese rice experience. Short- and medium-grain Japanese rice absorb water differently than white long-grain rice, so if you follow the water ratios provided in our stovetop rice recipe, you might end up with soggier rice than desired.
No matter though, because your rice will get flooded by tea to create a soupy experience anyway. (I almost think of ochazuke as a short-cut Japanese congee.) As to what kind of tea, the playing field is open. My personal preference is a really flavorful sencha or genmaicha: the former will feel fresh and calming, the latter will have toasty rice notes that feel extra soothing and comforting. Other variations include hojicha, which will add an almost chocolate-like smokiness and creaminess.
Ochazuke can also be made with dashi, a broth of kombu and bonito that is often the base of many Japanese dishes, like miso soup and shoyu ramen. If you want to try this brinier, umami-laden variation but don't have time to make dashi from scratch, buying the instant-dissolve powdered version is always an option.
As for toppings? My version has pink salmon for color and protein, furikake for sweet-salty crunch, sesame seeds for nuttiness, ginger or umeboshi for spice and acidity on top of a hit of salt, and some scallions for a fresh pop on top. Just a note: 1 pound of fish will definitely last you beyond just 2 servings; store what remains in the fridge for up to 3 or 4 days and heat it up for more bowls of ochazuke as the week continues.
The top reason why I love ochazuke is that you can customize your bowl how you like it. Instead of salmon, you can use leftover roasted chicken, shredded into bite-sized pieces, or some strips of simmered yuba. Instead of sesame seeds, sub in any kind of crushed, toasted nuts—or even potato chips. Is it sacrilege to the original concept? Irrelevant, as long as you love it. Just keep the tea: "cha" or "ocha" means "tea" and "tsuke" means "submerge."
Once you've made a version of ochazuke, drop us a comment down below and let us know how you liked it!

DIRECTIONS
Preheat oven to 350°. Pat salmon dry with a paper towel and rub all over with mirin, salt, and sugar. Place skin-side down on a baking sheet or ovenproof skillet and let marinate 10 to 15 minutes. Drain any liquid and pat salmon dry with a paper towel.
Bake until salmon is cooked through, 12 to 15 minutes. Let cool and gently break into bite-sized flakes.
Meanwhile, brew tea: Place tea in a large jar and pour over 1 ½ cup boiling water. Let steep to desired strength, 5 to 8 minutes, then strain.
Assemble bowls: Divide rice between two serving bowls and top with salmon and ginger. Pour tea over each bowl to cover rice, then top with sesame seeds, furikake, bonito, and scallion.