"Help, my child has been diagnosed with poor Working Memory and Dyspraxia "
Cogmed Working Memory Training is suited for individuals with diagnosed and undiagnosed problems. Cogmed Working Memory training is validated by clinical neuropsychological tests and published in peer-reviewed scientific papers. Through training, your child can improve their brain function, corresponding to two years of normal development.
Question 1: What is Working Memory?
Working Memory is active memory, we use it when we think and do things at the same time. Working Memory is used for a number of everyday activities, for example, remembering what we hear, see or read, mental maths, focusing on tasks and remembering lists, directions or instructions.
Children who have poor working memory find it difficult to learn to read and they find mental maths very challenging.
Check your child's working memory here.
"Does my child need a Working Memory check? "
Question 2: Is it actually possible to improve your child's Working Memory?
It is possible to improve your child's Working Memory! It is possible to improve the Working Memory of an adult too. Think of Working Memory as a flexible vessel in the brain. This imaginary vessel has a certain capacity to hold information. If the capacity is small and the brain is recieving a large amount of information, then the volume overflows out of the vessel, without a lid to contain it. We train Working Memory by stretching the capacity of this imaginary vessel to enable it to hold a larger volume of information and strengthening the lid so what is inside does not spill out. Research shows by repeating specialised Working Memory exercises Working Memory can be improved. Children feel less overwhelmed and able to cope better with day to day life once they complete the five* week training. (Can be varied six or eight week training duration.)
Children enjoy the Cogmed Working Memory Training because there are timely rewards and it appears like a computer game.

Question 3: What is the Cogmed Working Memory Training program?
It is a remote online program that can be done anywhere in the UK or Europe. The training contains Working Memory exercises to train your Working Memory.
An example task is asking the student to remember a sequence of items and repeating them forward or backwards. The scoring system for Cogmed uses high-level algorithms, that see if the student is close to the correct answer, correct or totally off. If the student is doing well it increases the challenge. If the student is failing it decreases the challenge. This adaptive method is at the heart of ensuring the student's Working Memory is stretched to its limits each time they work.
There are programs for very young children and those with low-level skills as well as focused programs for adults use.
The student's performance is uploaded to their very own private account which can be seen by the student/parent and the Cogmed Provider, Raviv Practice London. Throughout the training, there are in-depth calls to review the work push performance. At the end of the Cogmed Working Memory Training, the parent will receive an overall report about their child's training and tips on how to continue improvement.

Question 4: How do I know if Cogmed Working Memory Training is right for my child?
The easiest way to determine this is to schedule a quick chat with our Cogmed coach. We have over 14 years experience of in using Cogmed and our students make on average 2 years of Working Memory advancements in as little as 5 weeks of training.
Cogmed Working Memory Training is suitable for almost anybody aged 4+ that wants to improve their working memory. It is also suitable for those with ADHD, ASD, learning difficulties and ageing populations.
Question 5: Who can't do this? What if I do not have a clear diagnosis for my child?
There is no need for any diagnosis of Working Memory deficits before you can start training. Aside from those with epilepsy, this is suited to anyone with Working Memory weakness. You can check if you are suited by doing this quick questionnaire.
Question 6: What is the cost and the process?
We have a remote onboarding process. You can check the price here
The coach will then do the following in person
An initial interview and discuss training duration – over zoom
Training you in using the Cogmed program – how to get the best training results
Help set up subject goals, set up the training agenda and create a baseline measure
You will have 4 progress calls over Zoom
A final wrap up call, a summary report with training analysis data.
Tips and advice on how to continue improving Working Memory
6-month follow-up
The training protocols are:
5 weeks 5 days per week 40minutes per session
6 weeks 5 days per week 30minutes per session
8 weeks 5 days per week 20minutes per session
Try Cogmed Working Memory training FREE here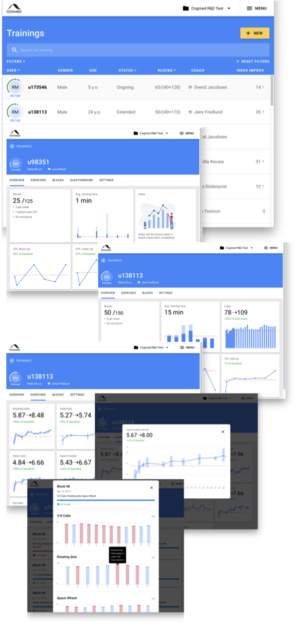 Question 7: What do I need to do this?
Since it is an internet-based program, there are some practical and technical requirements we need from you:
• Desk set-up for good posture/hand-held mouse
• Broadband/Internet access at home
• A laptop or desktop computer (we do not advise training on mobile devices or phones)
• Zoom set up for your progress calls.
• The ability to motivate your child (or yourself)
• The ability to follow the agreed training schedule.
Question 8: What kind of results can I expect from this?
Raviv Practice London have been using Cogmed Working Memory Training since 2008. We know how to keep the students (all ages motivated). We know how to work with parents who in turn motivate their children. Importantly, Cogmed measures the Working Memory at the start of the training giving a baseline score. With the coaching program, we manage expectations, motivate the parent/student and increase the capacity by an average of 2 years.
Cogmed Training focuses on improving working memory, children, adolescents and adults with all levels of starting working memory ability have reported that they find it easier to concentrate, experience improved stamina when performing mentally demanding tasks and that they find it easier to remember things. 80% report noticing these results after they have finished the online program and have been shown to be long lasting.
The effects of Cogmed working memory training have been seen on tests that measure attention and academic performance. Research has also shown activation patterns in the areas of the brain involved in manipulating information for a short period of time actually changes as a result of this training. More information on research findings can be found at www.cogmed.com/research.
"Soon after Cogmed finished, the first thing we noticed was her writing speed; this became significantly faster. Scarlet, did not waste time in the mornings either….."
Question 9: Does the training need to be repeated
Working Memory grows significantly from age four to sixteen. During this period, children with neuro-divergent conditions such as dyslexia, ADHD, dyspraxia and speech and language delay would benefit from repeating the training each year to help match the ever competing academic environment. This is not essential but comes recommended during the essential years of brain development. To find out more read our Cogmed page.
Ready to start training?